Reisner gets LOUIE award, Premo and Clemons Salon get business awards
October 4, 2016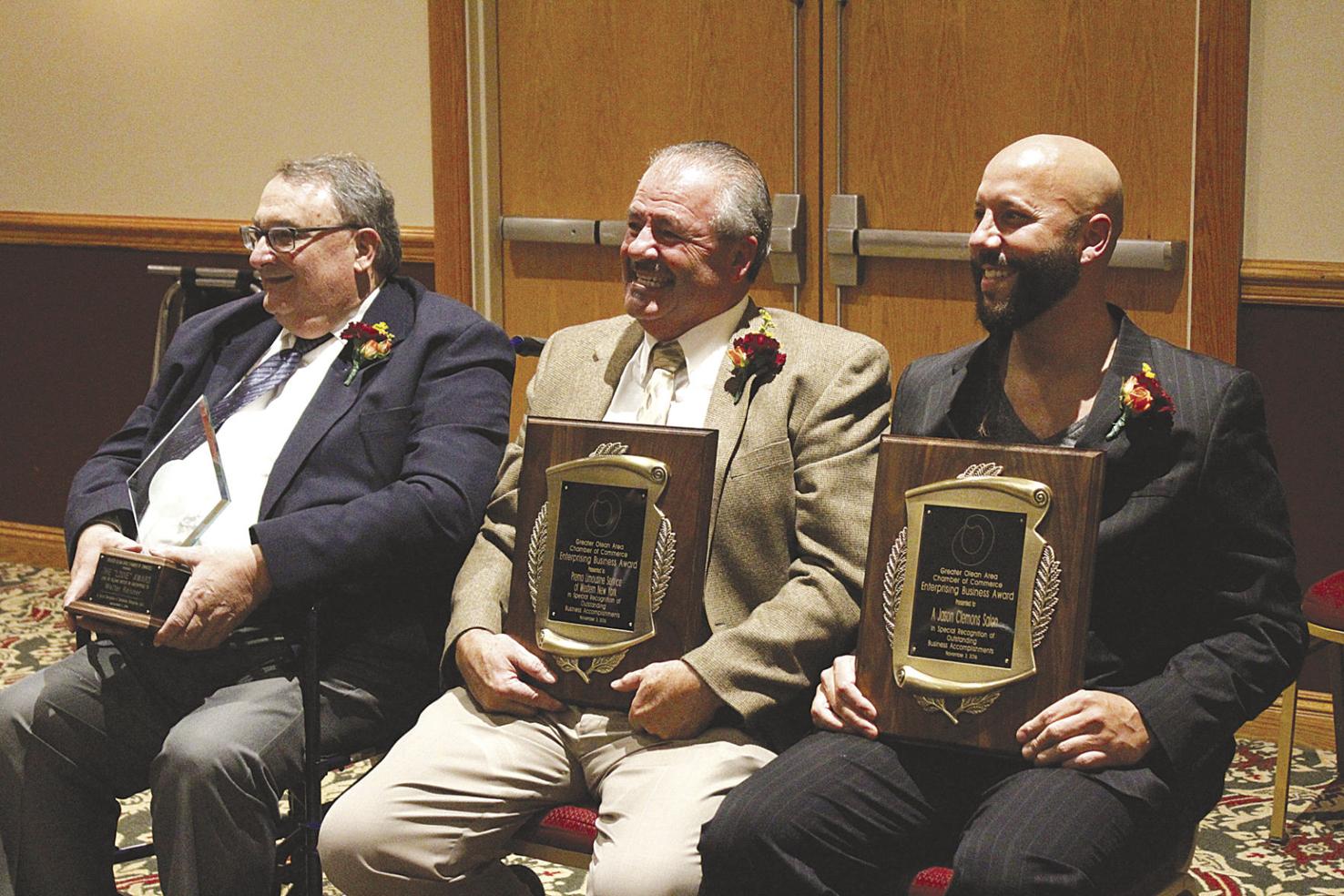 This story originally appeared in the Olean Times-Herald.
Three men representing Olean business were recognized for their efforts at the Greater Olean Area Chamber of Commerce's annual dinner Thursday night at Premier Banquet Center.
Walter Reisner, who with his wife, Ruth, founded Trans Am Ambulance Services Inc. in 1982, was bestowed with the chamber's highest honor, the L.O.U.I.E. Award.
Meanwhile, Premo Limousine Service of WNY LLC, founded in the late 1980s by Dave Carucci, and A Jason Clemons Salon, which owner Jason Clemons opened on East State Street in 2009, received 2016 Enterprising Business Awards.
The recipients highlighted those in the community who helped them and noted the important role businesses play in Olean's future.
"There's a theme running through these award recipients this year," said chamber CEO Larry Sorokes, who emceed the evening. "Each has worked hard to achieve exceptional success in business, but each has recognized the importance of something larger than himself, and that is the need to educate and develop those who come after us (and) the critical importance of giving back to the community that led them to prosper."
The L.O.U.I.E. Award, short for "Love of Olean United in Enterprise," is for an individual who symbolizes the enterprising spirit for the greater Olean area and the legacy of businessman Louis Marra. Reisner was selected this year for his life's work in philanthrophy and in helping save residents' lives, making sure local first responders have the best equipment possible.
After starting with just one ambulance in the early 1980s, Trans Am has grown to 10 ambulances; nine wheelchair vans; three advanced life support intercept vehicles, or flycars; and three medicabs.
"We've grown into quite a resource for the community," Reisner said.
Reisner was also the first EMT certified in advanced life support and critical care in Cattaraugus County and has worked with charitable foundations to help give more than $200,000 to local organizations.
He called the award humbling.
"I have to say 'thank you' to my family and to all of the people of Olean for choosing me for this most prestigious honor that anybody from Olean can receive," he said.
Speaking for his business, Premo Limousine, Carucci also spent a large part of his speech giving credit to those who helped him grow the business to seven 56-passenger coach buses, an 18-passenger luxury coach bus, a 12-passenger shuttle bus, 14 smaller vehicles, a limo van and a stretch limousine, as well as 31 employees.
"This award is not about me, it's about being connected to a community — a small community that survives in the heart of the Enchanted Mountains," Carucci said. "The success of Premo has little to do with me, it is the continued support of Olean, loyalty of good friends and employees."
Sorokes noted the former Olean mayor has "passion and boundless energy" for Olean, as Carucci's business sponsors events like the Gus Macker 3-on-3 Basketball Tournament and has even driven Olean High School basketball teams to state championship games.
When giving the other Business Enterprise Award to A Jason Clemons Salon, Sorokes noted the salon was one of the youngest businesses to ever receive the award.
A Jason Clemons Salon has seen consistent sales gains and boasts a 97 percent customer retention rate, according to the chamber. Those pursuing a career in cosmetology and beauty care can receive mentorship there, as it has an open-door policy for those in beauty school to come in and learn.
Owner Jason Clemons said he's "just a name," but his staff of 14 are the business' "heartbeat," and he had his employees that were attendance stand to be applauded and recognized.
He also spoke about starting the business and how it was important that he have not just a dream for the salon, but also a vision.
"We will never let any of our staff feel like they can't grow, and we will never make any of our guests feel like they can't be provided with any service they would like to have," he said.
Sorokes also took time to update those in attendance on the chamber's goals, which include making the new walkable downtown Olean more of a tourist destination, recruiting young professionals to the area and helping small businesses grow. The chamber also recently launched a mobile app.