In Memory of Walter Reisner
February 1, 2017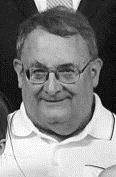 Looking back on his career, Walter Reisner has accomplished much for the community.
Through his vision, Reisner built up a company often credited with saving the lives of area residents when minutes mattered most. He's also been a leader in the local medical community, having worked tirelessly to make sure the best equipment and practices are available to first responders at a moment's need. In addition, Reisner has continued a legacy of giving started by his parents, the late Dr. Lewis C. and Doris Reisner.
The Greater Olean Area Chamber of Commerce awarded Reisner the highest recognition it can for his dedication to the area, awarding him the L.O.U.I.E. (Love of Olean United in Enterprise) Award. He'll received the honor at the Chamber's 111th Annual Dinner, scheduled for Thursday at Premier Banquet Center.
The L.O.U.I.E. Award is bestowed upon an individual who symbolizes the enterprising spirit for the greater Olean community, qualities which were embodied in the life of Louis Marra. Last year's recipient was Timothy J. Finan, president and CEO of Upper Allegheny Health System.
"Often, a business leaders' accomplishments are gauged by the amount of money they earn or the number of people they employ. With Walt, the standard is much more meaningful: we know that countless numbers of lives were saved because of his efforts," said Larry Sorokes, the Chamber's CEO. "Walt is truly deserving of the L.O.U.I.E. Award and we offer our sincerest gratitude for his work in our community."
In 1982, Reisner and his wife, Ruth, founded Trans Am Ambulance Services Inc. with intentions of supplementing and assisting emergency medical services in the area.
At its start Trans Am operated with only one ambulance. In the decades that followed, the Reisners grew their business to include 10 ambulances, nine wheelchair vans, three advanced life support intercept vehicles (flycars), and three medicabs in addition to a fully trained staff of EMTs and paramedics.
Because of Reisner and his company, thousands of the area's citizens have access to an independent first responder agency with advanced lifesaving capabilities and equipment, quality medical transportation, and other life-saving measures not often found in rural regions.
In fact, Reisner was the first EMT certified in advanced life support and critical care in Cattaraugus County, as well as the first EMT certified critical care instructor in the greater Olean area.
Trans Am's introduction of its flycars was a significant service Reisner brought to the area, as each car is outfitted the latest clinical technologies, such as defibrillators, many local first responder agencies are unable to afford or staff. With its small fleet of flycars, Trans Am works with area ambulance companies to bolster their lifesaving efforts.
Reisner played an instrumental role in setting up many programs throughout the area — such as The Regional Paramedic Training Program which has distance learning labs at Olean General Hospital and the WCA Services/ALSTAR EMS Training Center in Jamestown — to train EMTs and paramedics in the latest lifesaving techniques.
"Walt has dedicated his life to improving health services in our region, and his leadership in this sector is well-known and highly respected," Sorokes said. "When I was at JCC, he approached us about bringing first-responder training to the region via distance learning, and the program was a great success."
Reisner's career is also marked by service to the community.
Reisner was a member of various boards of directors, including Southern Tier Health Care System, the Southwest Regional Emergency Services Council and the Cattaraugus County Emergency Medical Services Council. In addition, Reisner was appointed to serve on the New York State Medical Services Council and the New York State Rural Health Council.
Working through charitable foundations bearing his parent's names, Reisner has helped give more than $200,000 to many area organizations in need of financial support.
"Walt sets a fine example for all business leaders in the greater Olean area," Sorokes said.
In addition to Reisner, Premo Limousine Service of WNY LLC and A Jason Clemons Salon will receive honors at the Chamber's upcoming Annual Dinner. Both Premo Limo and A Jason Clemons Salon were selected to receive 2016 Enterprising Business Awards.
The Annual Dinner will begin with an informal reception at 6 p.m.. The dinner slated for 7 p.m. Tickets for the event are $46 with a choice of menu of Grilled Salmon or Filet Mignon with a vegetarian option of Pasta & Vegetable. Patron dinner tickets for $55 and corporate tables of eight for $500 are also available to reserve. Patrons and corporates receive a listing in the dinner program. Music will be provided by New York Standard Time comprised of Jan Rhody, Les Sabina and Moses Howden.